Tampa Bay Chihuahua Club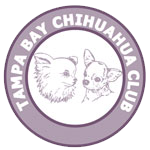 Here's hoping you can join us again this year. Five Days of Shows. Seven Opportunities to put points on your Chihuahua's. June 12-16, 2019 Sunshine State Cluster includes Sarasota Kennel Club, Greater Venice Florida Dog Club and St. Petersburg Dog Fanciers.
Tampa Bay Chihuahua Club will once again have two Concurrent Specialties June 15 & 16, 2019. Our Judges are Edd Bevin and Dr. Azalea Alvarez on Saturday and Johan Becera Hernandez and Susan E. McQueen on Sunday.
Full Premiums can be found on Info Dog. MBF Superintendent