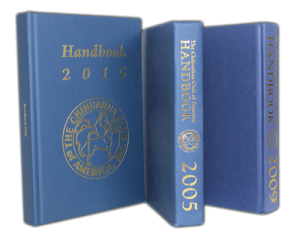 Whether you are a member of the Chihuahua Club of America or not, this handbook is for you. Those of you that own and continue to enjoy the four previous editions will find this one helpful as well.  The concept of the handbook was first introduced in 1987 – the purpose is to provide a service to our breed.
The book has three distinct sections:
Articles and Club History – information of interest to the breeder and Chihuahua fancier.
The Pedigree Pages – Used to trace bloodlines and breeding programs.
Advertising
The front section of articles needs no explanation; it contains enlightening information, gleaned from a variety of sources.  This year we have updated previous articles and included some very interesting , little known history of our club.
The Pedigree Pages:
This is really what the handbook is all about.
To have as much information about each dog as possible – available at a glance
To help us learn more about how each dog was bred;
To let us see the results of that breeding
To follow how lines have been developed
To help us choose the breeding that will aid in our personal efforts to improve the breed
Because these pages are so important, precise guidelines have been strictly enforced and, these pages are limited to Champion dogs, Top Producers recognized by the Chihuahua Club of America, and Obedience Titled dogs.
Advertising:
This section includes veterans, puppies and non-champions. Many of these ads also include the pedigree.  The Advertising section was completely open and virtually unrestricted therefore, inclusion in the handbook does not imply a recommendation or endorsement of any individual by the Chihuahua Club of America.